With the Thrixxx sex simulator there's no need for foreplay (unless you want some!). You can jump right in to a steamy fuck session and get down and dirty right away. Pick your favorite pose from the Sex Browser and I'll be right there to "help out" with it.

Check out the different Game Modes for quick sex! Check out the SexBrowser for lots of poses!
You can fuck me in all kinds of great locations! From a quick blowjob in the office to a slow screw in the park. I love it when you tie me up in the fetish room. You can pork me in fun fantasy locations like the space station or the pirate ship! Anywhere you want it, I'm always ready to please you.

Check out the full list of locations!
I love to shop! The Thrixxx simulator has a great store with everything you could want to fulfill your sex fantasies. You can buy new locations to fuck me in, Toys to play with, ways to customize your models and more! The gang at Thrixxx is constantly releasing great new stuff for us to play with. Can I have a some bigger tits for Christmas? Please?

Check out the Sex Shop!
If you get tired of fucking me (like you would!) there are lots of willing partners to choose from. You can fuck men, women, shemales and even aliens! You can also choose the avatar and gender that will represent you in the simulator. Want to fuck your secretary or a celebrity look-alike? It's like having your own bottomless harem.

If you want something not in the catalogue of models, you can always customize your own!
The Thrixxx sex simulator has super duper plastic surgery tools to customize
your models just the way you like them. Give them bigger tits, change their
age or make them look completely different. The Customizer is easy to use and
hours of fun.
But don't spend too much time there and forget to fuck me!
Check out the Model Editor
Now that you have your perfect sex partner it's time to make them do what you want. In the Pose Editor you can try out any position you can dream up! Solo, two-somes or three-somes can be posed and animated! I wonder how long it would take to try the whole Kama Sutra? I'm willing if you are!

Check out the Pose Editor
You can make sex toys too! I want a new zuccini dildo!

Check out the Toy Editor
Why watch someone else's porn when you can make your own? I know there's some slippery fantasy that you want to see on screen and I would love to "act" in it with you. You can take pictures and video anywhere in the simulator. With the Sequencer you can script your own fantasy complete with camera cuts, poses and titles!
Oohh I can't wait. Will you make me a star, mister director?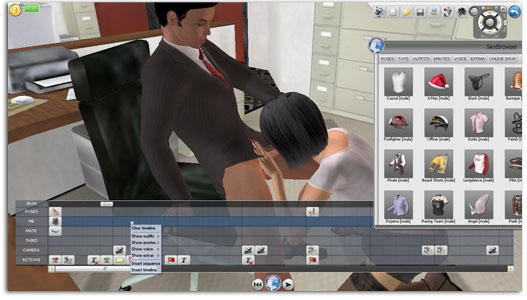 Check out the Sequencer
You can make and share your own interactive sex games! With Sequencer you can drag-and-drop different choices into the timeline. Make it a challenge to get into my pants!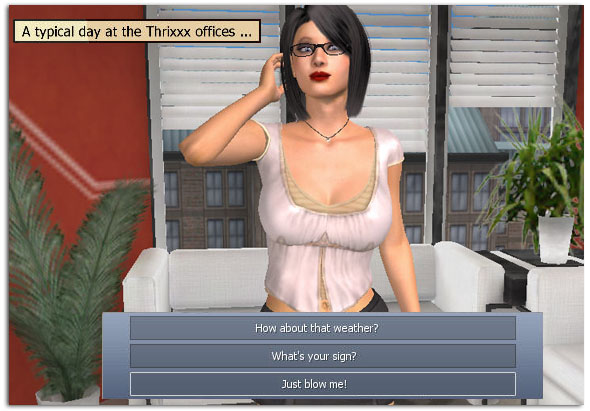 You are not alone! There is a HUGE community of like minded perverts swapping models, pictures, movies, sequences, poses, textures and more online! I like to hang out on the GamErotica site where there is always hot new stuff to try out. You can upload your own kinky creations with a click of the Share button!

The content is truly bottomless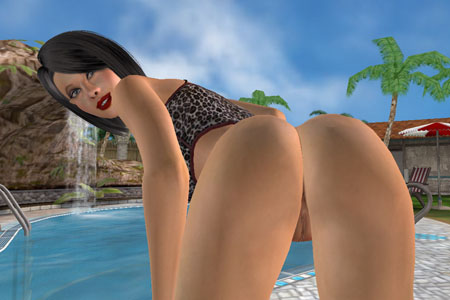 just like me!
Learn more about the GameErotica Community and then check out Gamerotica Online!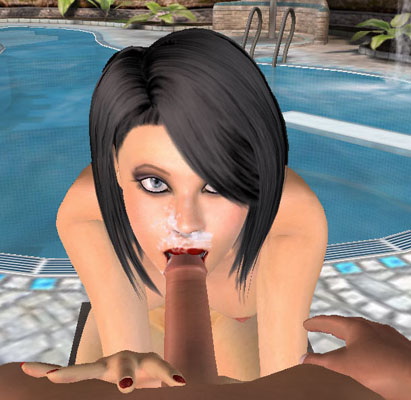 Thanks for cumming!